Built in 1908, the Inn at the Gorge is a Queen Anne style home which has operated as a Bed and Breakfast since 1987. This fine air conditioned B&B and has five guest rooms, all with private baths. Equipment storage on the premises for all your sports equipment. Select availablity now for 2007.

---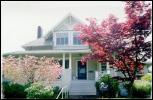 Built in 1917, Gorge View has Victorian styling, showing Hood River's classic tradition. Operated as a bed and breakfast since 1985 by Pat and Ann Frodel, Gorge View is conveniently located in downtown Hood River at 10th and Columbia Streets. Rooms include a full breakfast. Select availablity now for 2007.

---

An elegantly restored Queen Anne Victorian, the Mosier House was built in 1904. A long and careful restoration of the house was begun in the late 80's capturing the charm and integrity of another era. Today this charming Bed and Breakfast sits amidst gardens, a creek and a pond, located in the small town of Mosier, just 6 miles east of Hood River. Select availablity now for 2007.

---

The Hood River Hotel, located in downtown Hood River was, built in 1913 and is listed on the National Register of Historic Places was purchased in 1988 by Pasquale Barone, who began the extensive restoration work, restoring an old world craftsmanship not found elsewhere in the area. The hotel offers 32 rooms and 9 suites, each different, each individually appointed with antique reproductions and decorations evoking European charm and the hotel's history.

---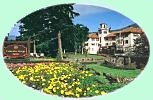 The historic Columbia Gorge Hotel, opulently restored in the 80's, stands proudly atop a bluff overlooking the mighty Columbia River greeting its visitors with warmth and elegance The Hotel has 40 rooms, all of them unique. Lodging includes "The World Famous Farm Breakfast," complimentary coffee service, Champagne and caviar hour. You can also savor the exquisite cuisine of the hotel dining room, voted Oregon's Best Restaurant.

---

The Griffin House nests, like its mythological namesake, on a secluded acre and a half along WestCliff Drive adjacent to the Columbia Gorge Hotel, on the lofty cliffs high above Columbia River Gorge. The 3 story, 4 bdrm/3 bath home commands breathtaking, aerie views, widely acclaimed for spectacular sunsets, osprey and geese fly bys, and bald eagle sightings. The ambiance is unequaled! Available for weddings and special events.

---

Situated on the scenic Columbia River shoreline in the city of Hood River, the Hood River Inn offers waterfront access and a private beach. The well-appointed resort has 149 guest rooms, many with scenic river or mountain views, private balconies or patios. Suites offer fireplaces and whirlpool bathtubs. Room service available.

---

The Lyle Hotel, a 10-room historic railroad hotel, is located in Lyle, Washington just 20 minutes east of Hood River. Centrally located on the Washington side of the Columbia Gorge, the hotel is now under new management. Chef Chris, formerly of Mandalay Bay Resort in Las Vegas, Nevada, cooks up the finest Northwest and traditional American cuisine in the elegant dining room.

---

The Inn of the White Salmon is a European-style hotel serving travelers since 1937 in Bingen, Washington.. The antique decor of the 16-room Inn creates a quiet, cozy environment. Enjoy casual conversation, games, reading in the parlor, or a relaxing dip in the hot tub. Each room has a private bath, cable TV and A/C. Several two-room suites are available including a honeymoon suite. The Inn serves a superb breakfast!

---

This Grand Old House was built in 1860 by Erastus Joslyn. Nestled in the hillsides above Bingen Washington, the Joslyn House (formerly known as Bingen Haus) is located just across the river from Hood River. Choose from a selection breakfast menu items, featuring espresso/lattes, several juices, fruit cocktail and sweet bread tray.

---