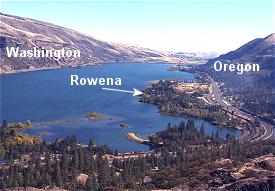 You have arrived in paradise, an outdoor recreation enthusiast's dream come true. Located on the "Rowena Riviera" right in the heart of the Columbia River Gorge on the border between Oregon and Washington in the NW United States, Rowena Shores is a 5 acre private estate.

One of the premier windsurfing locations on the Columbia River, just downriver from the famed Doug's Beach, it is also VERY popular with families with children as well. Nowhere else in the Gorge but the private launches in Rowena, can families with young children feel comfortable leaving their small children outside to play all day while everyone enjoys sailing, picnicking and playing on the beach. You just can't find a safer, more pleasant spot to sail than the private launches at Rowena.
If you don't have a friend in Rowena, you're still in luck. Mayer Park East is a windsurfing park at the east end of Rowena which offers an easy launch sight into the powerful winds of the central Gorge. Plenty of parking, grass lawns for rigging and full restroom facilities make this a great spot for the family.
Of course, windsurfing isn't the only activity to enjoy in the Gorge and surrounding areas. Hood River, Oregon, just 12 miles east of Rowena Shores along I-84, is the epicenter of an outdoor recreational wonderland. This federally protected National Scenic Area offers a wide variety of recreational opportunities. Enjoy mountain biking, whitewater rafting and kayaking, hiking, rock climbing, kiteboarding, boating, waterskiing, wakeboarding and personal watercraft, horseback riding, golf, and snow skiing and snow boarding on nearby Mt. Hood with an elevation of 11245 feet! The Columbia River Gorge truly has something for everyone! Spend some time browsing this website to learn more about all this northwest paradise has to offer.